Beer is popular in Costa Rica. Almost one-half of Costa Ricans drink beer. For visitors, beer is a great way to cool off and wind down from a day of surfing, hiking, snorkeling, bird watching, swimming, fishing, exploring volcanoes, rafting, and/or any of the other fun activities that you can do in Ticolandia.
The Tico beer experience includes inexpensive domestic mass-produced lagers and pilseners. You can get the imported brands that you may already know. And, since 2010, there is a vibrant and growing microbrewing community.
No matter your preference, you can probably find the beer style that you prefer.
Local Beers
A company called Florida Ice & Farm dominates the mass beer market in Costa Rica. They import and distribute both foreign brands that you may be familiar with, like Corona.
The company's domestic brewery, called Cerveceria Costa Rica brews a menu of local, inexpensive beers:
Imperial Beer
Imperial is the most famous Costa Rican beer brand but it is hardly the only domestic beer available. Photo: Ekem [CC BY-SA 3.0 (https://creativecommons.org/licenses/by-sa/3.0)], via Wikimedia Commons
Imperial is the most well-known and longest running beer brand in Costa Rica. You can find its logo on shirts and hats and other random merchandise all across the country. It is universally served in bars and restaurants throughout the country.
It is a lighter-bodied beer that pours a clear golden yellow with low-to-moderate carbonation. It is 4.5% alcohol.
In the year 2024 it will celebrate 100 years of being brewed in Costa Rica.
Locals often refer to Imperial as una aguila (an eagle) in reference to the logo.
Imperial comes in a few varieties. These include:
Imperial Light, which is a lighter more watery lager with 3.7% alcohol.

Imperial Silver, a slightly sharper version of the original, with 4.5% alcohol

Imperial Ultra, which is a low-carb beer with 4% alcohol.
Price for an Imperial bottle can be as low as 1,100 to 1,200 colones (or about two US dollars).
Pilsen Beer
Pilsen is a Bohemian Pilsner beer. Compared to Imperial, Pilsen has a stronger flavor and is slightly stronger in alcohol content, at 5.1%.
It sometimes referred to as una rubia (a blonde).
Like Imperial, Pilsen usually runs between 1,100 and 1,200 colones, or about two bucks.
Bavaria Beer
Bavaria Beer, in the trademark blue bottle, goes well with Ceviche. Photo taken at Nema Bar & Restaurant in Puerto Viejo.
There are at least five different varieties of beers that carry the name Bavaria. These include:
Bavaria Dark Beer, a Munich Dunkel Lager that is 5% ABV and has a toasted malty taste.

Bavaria Chill, which is an American Adjunct Lager, at 4% ABV, it is crisp and dry.

Bavaria Gold is a German Pilsner style beer, with 5.1% ABV.

Bavaria Light is an American Light Lager, 3.1% ABV. It is a standard, watery light beer.

Bavaria Red, also an American Light Lager, with a 4.5% ABV. Its slightly red flavor is supposedly due to the mix of three malts: Carared, Munich, and Pale.
Rock Ice Beer
Rock Ice is among the least respected mass produced, so-called macro-brews in Costa Rica. it is brewed using fractional freezing to increase the alcohol content; its ABV is 4.7%
There are two fruity variants:
Rock Ice Limon, a lime-flavored beer with a 5.1% ABV.

Rock Golden Monkey, a beer that tastes mango-infused. But, this taste supposedly comes from an Asian flower called the mangosteen. It is 5% ABV.
Bohemia
Bohemia beer is an American Adjunct Lager with 4.3% ABV. Despite the name, it isn't a beer that you would mistake for a Czech Republic brew. It tastes mostly of corn.
Kaiser
Kaiser is a low-alcohol beer. It is allegedly processed using an "osmotic membrane" to filter out the alcohol while maintaining a quality beer taste.
It is 0.5% ABV, with a light body.
Craft Beer Costa Rica
Since 2010, Costa Rica has been part of the microbrew/craft beer movement. The largest variety of domestic craft beers are available in San Jose and the Central Valley area.
The raw materials for brewing beer, such as malts, grains, and hops must be imported to Costa Rica, due to the climate. In 2012, opportunistic entrepreneurs began importing these items, spurring a proliferation of microbrewing and craft beers. At least 15 microbreweries, making new varieties of Costa Rican beer, were founded after 2012.  As of 2016, there are 85 craft beers registered with the national Ministry of Health.
The first Costa Rica Craft Beer Festival happened in 2011. Only 300 people attended. In 2016, more than 2,000 people enjoyed 120 beers from 30 breweries.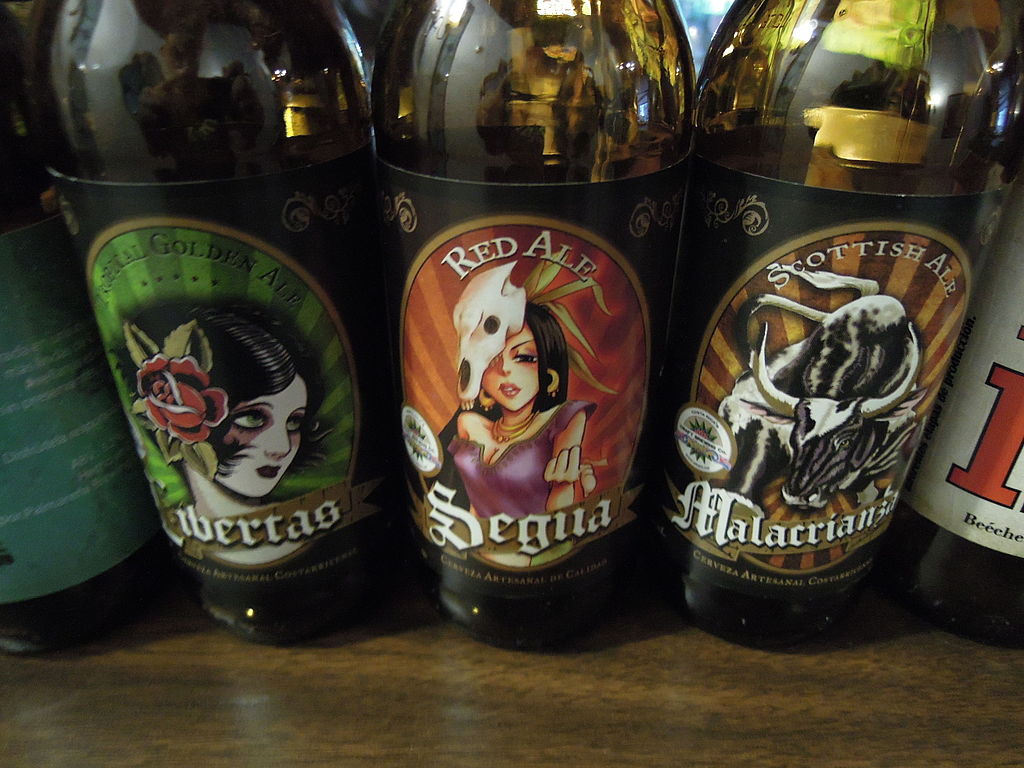 The craft beer scene in Costa Rica has exploded since 2010. Photo: Rquesada [CC BY-SA 4.0 (https://creativecommons.org/licenses/by-sa/4.0)], via Wikimedia Commons
Costa Rica Craft Brewing Company
Costa Rica Craft Brewing Company is one of the first legal microbrewers in the country. They are located in Ciudad Colon, on the east side of the Central Valley.
The company has produced at least twelve different beers; however, there are two continuously brewed beers that are the backbone of their portfolio:
Libertas Tropical Golden Ale
Libertas is an American Blonde Ale with a 4.7% ABV. It is among the very first craft beer brewed in Costa Rica. The first batch was offered in 2010.
Segua Red Ale
Segua is an American Amber / Red Ale with a 5% ABV. This medium-bodies beer has a toasted malt, slightly sweet taste, not unlike a caramel malt.
Treintaycinco Fábrica de Cervezas
This microbrewery, named for the numeral 35 in Spanish, is the largest in terms of production. In 2016 it produced 250,000 liters.
Treintaycinco has produced at least eleven beers. We are going to focus on three of them:
Maldita Vida

Mama Candela

La Pelona
Maldita Vida
This strong brew is an American Barleywine, with a 9.8% ABV. It has a strong malty taste with noble hops and slight cocoa undertones.
Mama Candela
This American Porter is 7.8% ABV and is available on a rotating basis. It is a medium body beer with tastes of cocoa, honey, and coffee.
La Pelona
This Pale Ale is 6% ABV and is continuously available. It is not overly bitter and has a nice mouthfeel.
Domingo 7: La Micro Brewing Co.
This brewery is Florida Ice & Farm's answer to the microbrew/craft beer trend in Costa Rica. They have produced at least nine beers, including Tanomanso and #7 Golden Ale.
Where to Get Craft Beer in Costa Rica
Craft beer, or cerveza artesenal, as it is known in Costa Rican Spanish, is becoming more available throughout the country. Here are some restaurants and bars where you can find it:
Barrio Escalante is a trendy neighborhood on the east side of San Jose with many restaurants and bars.
Barrio Amon is a historical neighborhood with large homes of stunning architecture.
Los Yoses is a more tranquil, residential-oriented neighborhood east of Escalante.
Cuatro Bar & Restaurante

Rio
Escazu is an upscale suburb west of San Jose
Pocket Food & Drinks

Mekong Asian Fusion
Santa Ana is another upscale suburb west of San Jose
Downtown San Jose is the most urban part of the Central Valley.
Hotel TRYP Sabana

Hotel Radisson

Casa Brew Garden
Ciudad Colon is a small town west of Santa Ana.
Cariari de Heredia is a nice area near the airport.
Finca Rosa Blanca, Santa Barbara

Chichis

Hotel Courtyard Inn & Suites
Alajuela is northwest of San Jose.
Jaco is the closest beach town to the Central Valley.
Manuel Antonio and Quepos are popular tourist destinations on central Pacific coast.
Hotel Flor Blanca

La Hacienda

Cafe Agua Azul

Arenas del Mar

Hotel Playa Dulcevida

Cafe Milagro
Nosara is a small beach town on the Nicoya Peninsula
Hotel Harmony

Sunrise Restaurant

Hotel Kayasol

Blue Spirit
Samara is another Nicoya Beach Town, south of Nosara.
Puerto Viejo is a funkly beach town on Caribbean side of Costa Rica, in the Limon Province.
Punta Uva Lounge

Restaurante Cafe Viejo
Tamarindo is popular beach town in Guanacaste.
Ricante's

Hotel casa Bambora

Bar One
La Fortuna, known for its thermal springs, lies in the shadow of Arenal Volcano.
Bagabondo Pizzería

Lake Arenal Brewery Hotel Restaurant
Ready to explore the beer of Costa Rica? Check the current prices on flights.