Puerto Viejo and Cahuita are the best-known beaches in Costa Rica's Caribbean coast. They are famous for their national parks, many-colored sand beaches, and authentic Afro Caribbean culture. No trip to Costa Rica is complete without spending some time exploring the sultry Limón Province.
How to Get to Puerto Viejo & Cahuita
If you're going to Puerto Limón from San José, we recommend that you do so by ground, either driving or taking one of the buses that leave San José for the Caribbean coast. If you do take a bus, remember to make sure you buy a ticket for Puerto Viejo de Talamanca. There is another town called Puerto Viejo de Sarapiquí, but it has no beaches and is definitely not what you seek.
TIP: Make sure that your destination is Puerto Viejo de Talamanca and not Puerto Viejo de Sarapiquí.
We recommend ground travel because to get there you must go through the Braulio Carrillo National park, through lush rainforest and a tunnel that cuts under a mountain. If you're driving, feel free to make a stop on any of the various sightseeing spots, where you can jump off a zip line or enjoy a canopy experience.
Puerto Limon, Costa Rica will offer you the first sight of the Caribbean coast. The city is not beautiful, but it is full of flavor and culture; and, can be a fun stop if you're tired or hungry from your drive. If you want to catch a quick snack and continue your way, we recommend you stop by Soda El Patty and buy a few of their delicious spicy meat-filled pastries, known as patí, for the road. Fair warning: they often sell out, so there is some waiting time involved. It is totally worth it.
If you want to sit down for a meal, you can also try the legendary Cevichería San Andrés, whose seafood has a reputation for being an aphrodisiac. We don't know about that, but we do know the ceviche is always fresh and delicious. Don't miss the patacones!
[Check prices on tours that include Costa Rican's Caribbean coast]
Some guide books may recommend the local Parque Vargas, a recently renovated historical park. Even after the renovations, it's still more shabby than chic; don't go out of your way for it. Instead, seek out Playa Bonita, a delightful little beach a few miles north of Puerto Limón.
TIP: Skip Parque Vargas. Go to Playa Bonita instead.
An hour of driving (or riding the bus) south from Puerto Limon will bring you to Cahuita, a Costa Rican bio-diversity paradise. Cahuita National Park always delivers quality animal sightings, from two-toed sloths to toucans and more. The park was established in 1970 to protect a large coral reef, which makes for great snorkeling (you will require a local guide, for the reef's and your safety). Word to the wise: entrance to the national park is free if you use the main entrance in Cahuita – all they ask for is a voluntary donation. If you enter from the Puerto Vargas side there is a $5 fee.
TIP: Enter Cahuita National Park through the main entrance in the town of Cahuita in order to avoid a fee.
Onwards to Puerto Viejo, which takes less than an hour from Cahuita. You will know you're there when you see the dramatic Playa Negra, a long beach of sparkling black sand with an abandoned boat which seems made for Instagram. A short drive later you will be in the middle of the Puerto Viejo "downtown" – a busy surfing town ready to cater to visitors without losing any of its personality and flavor.
The 3 or 4 square blocks that comprise the heart of Puerto Viejo "city" have everything a visitor may require. Buy or rent surfboards and snorkels, browse local art shops, or taste organic, locally grown cocoa and spices. People from all over the world have made Puerto Viejo their homes and started all sorts of fun businesses. Don't be surprised to find delicious European-style baked goods, French cuisine with a Caribbean twist, and stylish boutiques with locally designed and handmade fashion and accessories. We're still not over a delicious shark carpaccio with avocado sauce we had at an Italian owned local restaurant.
Places to Check out in Puerto Viejo and Cahuita
If you're looking for adventure and romance, get your dance on at legendary nightlife spots Stanford's and Johnny's Place, which have been offering reggae and ice-cold beers for decades. Newer spots are bringing the competition with fancy cocktails, great interior design, and plenty of perks – we once had a sloth pay a visit to our party as we were dining at Koki Beach! Many restaurants, large or small, will offer live calypso music while you dine. We cannot recommend it enough – listening to the catchy tunes and heartfelt singing while eating under an almond tree in a warm night is one of the greatest joys in life.
South of Puerto Viejo is a series of the prettiest beaches you will ever see: Playa Cocles, Punta Uva, Playa Chiquita and right at the very end, Manzanillo. Most of these beaches, while not really white sand beaches, are actually collections of small coves, so you can enjoy a lot of privacy and solitude while dipping in beautiful natural pools enclosed by corals. Mind the corals, though, they can be very sharp – we have the scars to prove it.
Surfing is a way of life throughout Puerto Viejo, which even has its very own type of wave called Salsa Brava. Salsa Brava translates as "angry/spicy sauce", and rumor has it that it is the most powerful break in Costa Rica. There are various surf tournaments and competitions throughout the year; and, an abundance of hotels catering to every taste and budget.
Food in Puerto Viejo and Cahuita
The whole area is peppered with sodas, the Costa Rican answer to fast food. Drop by any of these when you're hungry, and sample the wonders of Caribbean cuisine – rice'n'beans is an unmissable local recipe which features the ingredients in its name plus coconut milk and hot Scotch bonnet peppers. The flavor is simply unforgettable. This Caribbean-style dish is different from other Costa Rican bean-and-rice based dishes such as gallo pinto and chifrijo.
Another dish you will see in practically every restaurant is fish or chicken in Caribbean sauce – the sauce has onions, bell peppers, thyme and a number of secret ingredients, and it is sweet, spicy, silky and delicious.
TIP: Try local cuisine for a low price at a soda, a common mom & pop restaurant.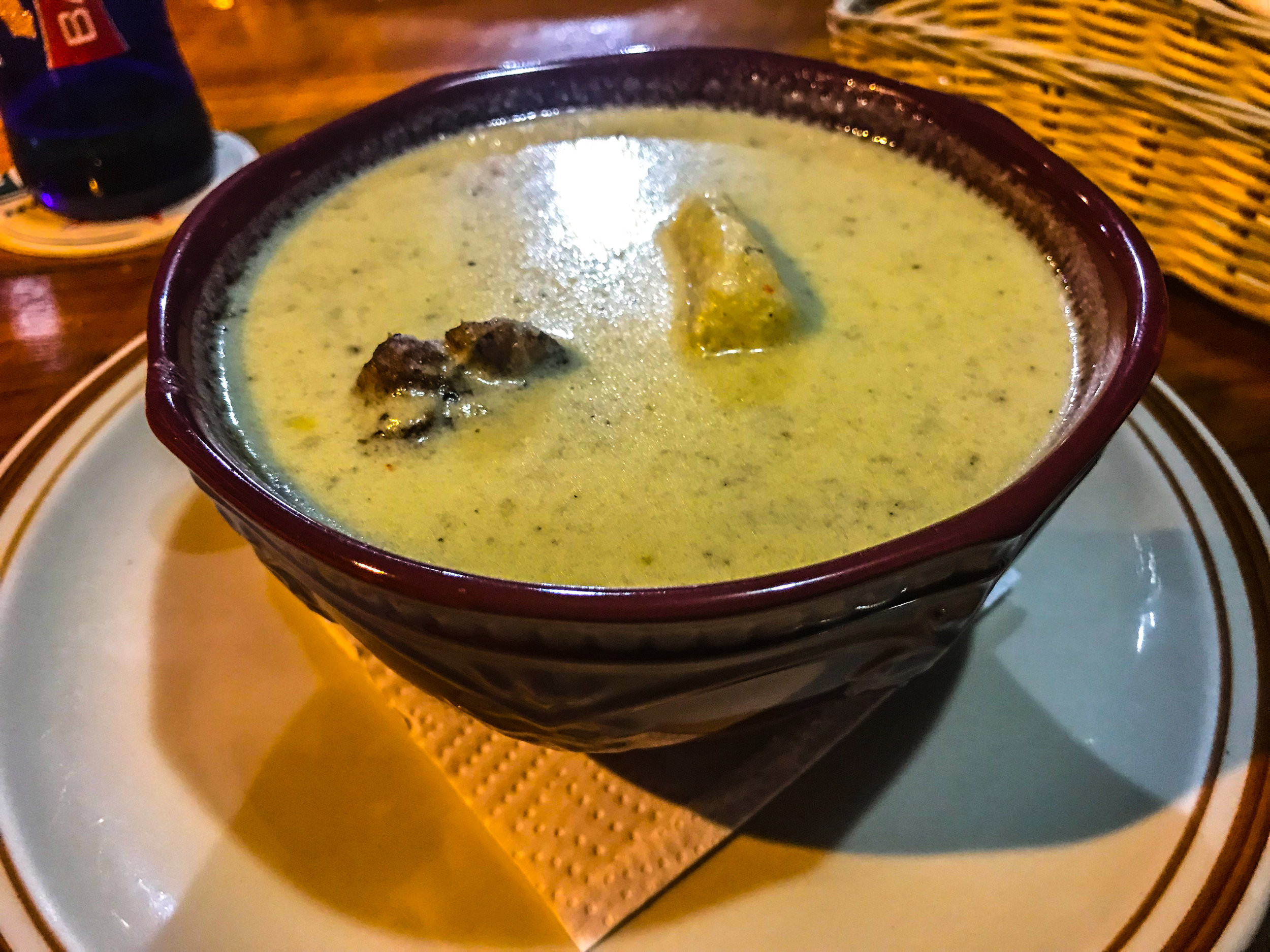 Finally, a local delicacy we can't get enough of is rondón, a thick and creamy fish stew with coconut milk and root vegetables. It is ridiculously hard to find, even though most restaurants have it on the menu: they only make it once a week (and it's the day after you leave), they just ran out, the stars were not aligned. If you are lucky enough to find it, try it!
Where to Stay in Puerto Viejo and Cahuita